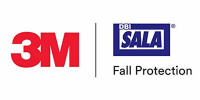 3M DBI-SALA
3M DBI-SALA with over 75 years of experience in developing fall protection solutions, 3M Fall Protection products aim to reduce the accidents caused by fall in workplaces and continue delivering premium quality safety products. At-height workers around the world have trusted DBI-SALA products to help them do their work safely and comfortably.
Top 3 Reasons that You Must Choose 3M DBI-SALA
With all the efforts and innovation, its line of products has made the work environments safer and more productive by protecting workers from hazards that can result in personal injury, equipment damage and tool loss. The business aims to make sure that with 3M Fall Protection equipment, workers' safety can be elevated to a new height.
3M DBI-SALA product selection includes confined space entry, anchorages, carabiners, body harnesses and body support, flexi guard solutions, connectors, lanyards, vertical lifeline systems, descent systems, drop prevention devices and more. Providing services and solutions to many kinds of industries such as mining, oil, gas, manufacturing, construction and more. 3M products are certified and have been proven safe to protect workers in the workspaces.
View Products