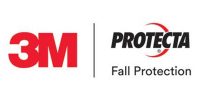 3M PROTECTA
For many years, 3M Protecta products have promised workers at-height with both practical affordability and easy compliance. 3M Protecta meets or exceeds the world's most stringent standards and codes—ANSI, OSHA, CSA and CE, as well as local and state codes.
3M Protecta are certified and tested to huge extend to make sure it is complying to the standards in the industry. Their onsite ISO 17025 accredited lab allows us to simulate heat, cold, moisture, corrosion and abrasion which caters to the challenges you face everyday at work. Lastly, 3M Protecta performs dynamic and static strength tests, at both in the field and in the ISO 90001 certified manufacturing facilities, ensuring you get high quality and reliable fall protection.
Ranging from basic harnesses and lanyards, to more complicated industry-specific anchorage connectors, 3M™ Protecta® is there to offer a huge variety of gears specialized for your needs and budgets without compromising the quality of the equipment.
View Products