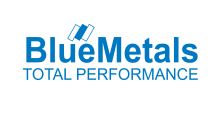 BLUEMETALS
Delivering guaranteed performance at lower cost, BlueMetals provides quality general purpose welding electrodes, TIG & MIG wires, stainless steel electrodes, fluxes and electrode and flux ovens to meet your welding needs.
BlueMetals covers a wide variety of welding applications such as pipe welding industry, carbon steel welding, shipbuilding, general purpose fabrication, maintenance welding, pipe welding-cross country, in plant, non-critical small diameter piping, joints requiring deep penetration such as square edge butts and sheet metal edge, corner and butt welds.
The range of BlueMetals products include BLUE-TIG, BLUE-SUB, HARDFACING ARC, BLUE-TIX, STAINBLUE, BLUE-MIG, BLUEFLUX, BLUECORE, BLUE-ARC, BLUE-CAST and more products with different models.
With different weld metal composition, mechanical properties and sizes, BlueMetals electrodes such as STAINBLUE series is rutile and moisture coating, suitable for critical welding of stainless steel or dissimilar welding of stainless steel to mild or low alloys steels.
To maintain the reliability and trust of the customers, BlueMetals products have been guaranteed as the top-quality products which give our customers the highest satisfaction level.
View Products