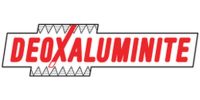 DEOXALUMINITE
Deoxaluminite is an aluminium based weld-through primer which is used in protecting metal surfaces from corrosion prior to welding without the need for removal of the primer. It is the original and the best-selling weld-through primer, specified by engineers for more than 50 years.
Benefits of Deoxaluminite Weld-Through Primer
Over so many years, Deoxaluminite is always one of the top picks when it comes to the welding applications in industries such as high-pressure steam vessels, nuclear and electrical power plants, heavy construction industry, ship building or anywhere steel needs protection from corrosion.

Improve Weld Quality
Deoxaluminite weld-through primer is an ideal primer which ensures high weld quality and it is compatible with most of the top or finish coatings.  It reduces the incidence of pinholes or porosity and offers a sound, fine grained welds.

Lower Fabrication Costs
Deoxaluminite reduces or even eliminates pre-welding cleaning expenses. Coat the weld edges with Deoxaluminite primer, the weld joints are not even needed to be laboriously and expensively redressed. With this, hours of costly labour can be eliminated. Moreover, further savings can be found when Deoxaluminite saves money in the completion of intricate and critical weld joints.

Protect Weld Joints
With Deoxaluminite, more time is allowed for the welders to do the actual welding after they have done the original weld preparation months ago. Our primer affords the insurance and protects the welds against bad weather, transportation delays and other unforeseen incidences which might cause a delay to the schedules.

Contains No Zinc
Deoxaluminite weld-through primer contains no harmful zinc or other heavy metals which might affect the elongation properties or ductility of the weld. Therefore, instead of investing more money in protecting weld, try to use Deovaluminite primer which needs only a small cost!

Reduce Rust and Corrosion in Weld
High tensile carbon, carbon-moly and chrome-moly steels must be as clean as possible to get a high-quality sound weld. However, these steels are easily corroded and mist be welded very soon right after grinding or other types of joint preparation. Deoxaluminite reduces the expensive necessity of removing rust and ease the pressure of welding time.
View Products