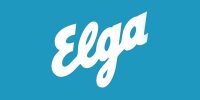 ELGA
For more than 80 years, Elga has been manufacturing welding consumables. Today Elga is one of the biggest players in the European welding consumables business. Now Elga is part of the globally known ITW Welding group and offers all the special range of product to customer needs.
With a continual emphasis on research and development to produce customer-centric solutions, Elga pledges to constantly provide customers with high quality products that satisfy their welding needs for carbon-manganese, low alloy and stainless steel. Stainless steel solid & flux cored wires, Inconel solid & flux cored wires, all the categories of GTAW wires are the strength of Elga. To increase the reliability and trust within customers, the brand never stop seeking for new methods, take on any challenge and leave no stone unturned until find the perfect welding solution. That is why welding professionals around the world trust Elga to tackle any application, wherever welding takes them.
The range of Elga products include Covered (Stick) Electrodes (SMAW), Flux Cored Arc Welding-Self Shielded (FCAWSS), Flux Cored Arc Welding (FCAW), Metal Cored Arc Welding (MCAW), MIG – MAG Wires (GMAW), Submerged Arc Welding (SAW) and TIG Wires (GTAW).
View Products