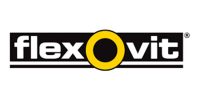 FLEXOVIT
The leading brand of high-performance abrasives with a strong focus on safety, Flexovit is the brand of choice for abrasive products among quality-conscious professionals. Flexovit abrasives are renowned for superior performance, durability and reliability; giving users higher work efficiency and greater quality in work performance.
Flexovit products are widely used in metal fabrication, foundry, rail, energy, marine, building and hardware. To meet customers' demand, Flexovit abrasives have provided the best-in-class performance in the result of their commitment to quality materials, processes and researches.
Advantages of Flexovit

High Performance
Flexovit abrasives allow workers to grind smooth, cool, remove metal faster. Ensure the best performance of works, at the same time give the workers the highest safety.

Long Lasting
Flexovit products are all of high quality. They are durable and long-lasting. This can help the industries to save extra costs.

ISO Certified
Flexobit is ISO certified for its consistent quality as an abrasive manufacturer. It gives trust to all customers that they can always receive the same high-performing abrasive products every time.

User-friendly
Flexovit offers powerful, user friendly solutions, enabling customers to shape and surface finish all types of materials even in the most complex and challenging applications.
View Products