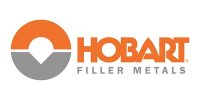 HOBART
Hobart Brothers was a family-owned company and they have continued to be operated until its acquisition by Illinois Tool Works (ITW) in 1996. ITW is a multinational manufacturer of a diversified range of value-adding and short-lead-time industrial products. They also manufactured equipment and they are the parent company of Miller Electric Mfg. LLC, Bernard, Tregaskiss and Jetline.
In 2013, the company consolidated all of their brands under a single Hobart® brand and the purpose is to simplify its filler metal offering. The Hobart brand features a full line of filler metals for applications ranging from mild steel and low alloy steel to high tensile steel. Some of their best-selling products are Aluminium-MIG/TIG, Flux Cored Wires, Metal Cored Wires, Solid Wires, Welding Equipment, Stick Electrode and many more in various diameters and packaging.
The Hobart brand is a signature for collaboration, innovation and expertise. They are strongly recognized as a leader in the industry.
View Products