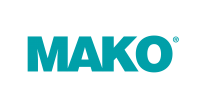 MAKO
Mako manufactures quality and dependable welding accessories, such as electrode holders, ceramic backing, tungsten carbide burrs, cable connectors, ground clamps and many more to meet customers' various welding needs.
Featured Products of Mako

Carbide Burrs
MAKO premium Tungsten Carbide Burrs are designed and manufactured with the users in mind. It gives you a better performance through superior surface finish quality and longer durability. It consists of different models and types which allow a wide variety of cuts such as double cut, cylinder shape with end cut, oval shape single cut, ball nose cylinder shape double cut, flame shape double cut, pointed tree shape double cut, ball nose tree shape double cut, miniature ball nose cylinder shape special cut, pointed tree shape special cut, ball nose cone shape special cut and many more.

Cable Connectors
Mako has MC series and MS series of cable connectors which come with Allen Key, zinc-plated cover and cable screws. Its quick connect allows a quick removal or extension of cables. It ensures that there have no slip or disconnection when cable is subjected to tension.

Cable Lugs
Mako cable lugs offer a high precision from high alloy copper tubing. They allow easy attaching for the convenience of the workers. Besides, it is also available with different cable size and stud hole diameters.

Ground Clamps
There are three types of ground clamps manufactured by Mako. They are ground clamp, magnetic group clamp and rotary ground clamp. With different amperes capacity, weight, cable sizes and specifications, Mako ground clamps meets a wide range of demands from the users.

Gouging Torch
Mako gouging torches can be used for physical process (non-chemical process) on the most metals with minimal deformation because of their low heat input. Mako comes with gouging torches with different electrode sizes, allowing users to choose a suitable one for their works.

Electrode Holders
We have MF Series and OT Series available. MF Series allows efficient grooved jaw design which ensures firm electrode grip, while OT Series can minimize exposed screws, internal metal parts on current carrying members in the holder for extra safety. They are lightweight and easy-to-use, ergonomically designed lever for good hand clearance.
View Products