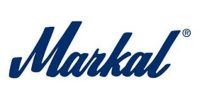 MARKAL
Markal is the global leader in high performance hand-held industrial marking products. The company produces and sell high performance industrial markers for multi industries: metal production, shipbuilding, automotive assembly, welding and metal fabrication, building construction, lumber/timber processing, and many more.
Why choose Markal?
Markal markers are always the top picks of the industries such as fabrication, transportation, energy for some reasons.

Time Saving
Markal markers have been proven for many years by its users for its fast-drying and permanent features. It allows an immediate handling and reduces work downtime.

Low Odour
Manufactured to be odourless which are welcomed by many industries. Low odor makes Markal marker great for indoor use and climate-controlled facilities.

Low VOC
Markal markers contains less volatile organic compounds (Low VOC), compared to other types of markers, which is indeed safer to the workers.

Accurate
Markal provides accurate temperature indicating liquid that verifies the achievement of a specific temperature with only 1% of Fahrenheit rating differences.

Enhanced Formula
Manufactured with the enhanced formula designed by engineers. It is to provide the highest quality of products for customers.

Dry Fast
Featured product such as Tempilaq Advanced, is an accurate temperature indicating liquid that can dry fast on both vertical and horizontal surfaces.
View Products