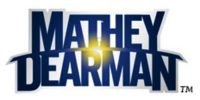 MATHEY DEARMAN
Dependable and tough, Mathey Dearman prides itself on being the world's foremost authority on preparing pipe for joining together by welding. Its cutting and bevelling machines are specifically designed for critical pipe applications that require a high degree of cut quality and accuracy.
Their range of products also includes pipe alignment & reforming clamps, welding electrodes, flux ovens, pipe fitting and flange tools. Mathey Dearman's products are commonly used in the construction and maintenance of pipelines, power plants, refineries, petrochemical plants, marine and offshore facilities and many more.
Mathey Dearman Product Categories

Cutting & Bevelling
Mathey Dearman's cutting and bevelling machine includes manual or motorized saddle machine, manual or motorized chain machine, manual or motorized band crawler, plasma speed digital motor control, pipe equipment specialist, uniweld torchs and tips. They are designed to be lightweight, high in cutting speed, precise and durable.

Aligning & Reforming
Mathey Dearman is popular in their chain clamps especially their Hydraulic double chain clamp and double chain clamp. All the Mathey Dearman chain clamps are designed specifically for each model to perform on different purposes or different types of pipes for convenience.

Pipe Rigging Equipment
We have different types of Mathey Dearman pipe rigging equipment available such as pipeline slings and cradles as well as pipeline launchers. Pipeline slings and cradles are available in a wide range of sizes and have been tested to pass the industry standards. Whereas, beam clamp rollers have fully compatible parts which can be converted from a pipe rack clamping roller to a pipeline launcher in a short time.

Tools & Accessories
Beside all the equipment, Mathey Dearman provides different kinds of pipefitting tools such as pipe stand, pipe jack, 5 leg giant jack, flange alignment bolts, hold down clamp, hydraulic flange spreader, mechanical flange spreader, quality control welder's gauges, pipefitter's square pipe wrap and so on.
View Products