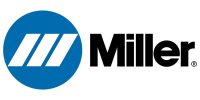 MILLER
As a company which continuously innovates and develops new products and technology to better serve its customers, Miller is the leading manufacturer of arc welding and plasma cutting equipment, accessories, induction heating and related systems for metal working applications.
Miller Equipment

Welders
Miller welders help the industries to achieve their jobs effectively. Their welding machines include MIG welders, TIG welders, Stick welders, engine driven welder generators, submerged arc welders and multiprocess welders.

Plasma Cutter
Plasma cutting is widely used in cutting and gouging applications. It requires compressed air and electricity to create plasma gas. Miller plasma cutter is able to cut steel and stainless steel up to 7 or 8 inches and cut aluminium material up to 5 or 8 inches. Flexible cables, Ultra-Quick connect plasma torches and machine torch capable models are included.

Induction Heating Equipment
Miller's induction heating equipment well known for its simplicity and efficiency in deliver fast and consistent heat for welding fabrication and construction, preheating of welds, post-weld heat treatment, coating removal and shrink fit applications. By utilising Miller's induction heating system many applications which required long hours to heat can be done in minutes.
Beside welding equipment, Miller provides welding accessories such as guns, torches, engine drive accessories, plasma cutting accessories, oxy-fuel accessories, regulator accessories, submerged arc accessories and so on. Miller strives to cover all the demands from our users. Therefore, Miller covers protection equipment for head and face protection, hand and body protection against fume and heat stress.
View Products