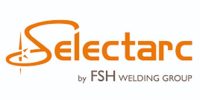 SELECTARC
Selectarc is a division by The FSH Welding Group, the Welding and Brazing division of Viellard Migeon et Compagnie, a family group set up in 1796 by Juvénal VIELLARD. The company has a whopping 200 years old history and it is still innovative and becoming well known.
In 2001, Forges de Saint-Hippolyte has transformed into the "FSH Welding Group", they are now a holding company set up to better organise the Group's various entities within the same organisation. In that particular year, Selectarc Industries took over the business of manufacturing arc welding electrodes and making their name sparks.
Today Selectarc is prominent for their worldwide independent manufacturing of innovative welding and brazing consumables. Their signature products of welding consumables are Arc Welding Electrodes and TIG & MIG Wires, brazing alloys & powders, tubular brazing wires and fluxes to suit various welding applications. Selectarc continues to play big in the market in providing strong, durable and quality Welding Consumables.
View Products