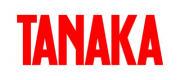 TANAKA
Since 1917, Tanaka aims for offering a total solution by providing original technologies and products that meet customer's highest satisfaction levels. Backed by a well of technological know-hows, strong research and development capabilities, Tanaka offers users quality and reliable automation equipment, laser cutting machine, plasma cutting machine, oxy-fuel cutting machine, welding and cutting accessories, compact economical pressure regulator and more.
Key Product Categories
Tanaka cutting machines have extremely high workability to meet demands and requirement from cutting industries.

Plasma & Laser Cutting
Tanaka produces numerous types of cutting machines. Among all the products, plasma bevel cutting machine and laser bevel cutting machine are well known for its high-quality bevelling power, which at the same time allow time saving, labour saving, excellence performance and most importantly cost saving.

Welding Hand Torches
Tanaka hand cutting torches are proven to be very useful when it comes to cutting steel plates of up to 80 mm thickness, backside gouging and removing of welded parts. Apart from that, it is widely used by a variety of industries for welding and heating thick plates because of its safety features, reliability, durability and strength.

Cutting Machine
Another type of popular machines from Tanaka include shape cutting machine, circle cutting machine, straight cutting machine and machine which allows both straight line and circle cutting. They are durable, lightweight, high in cutting speed and accuracy. With different models, they are capable of cutting straight line, circle shape, eclipse or pipe with different diameters and thickness.
View Products