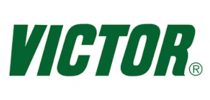 VICTOR
Founded in 1913, Victor is recognised as one of the world's leaders in gas apparatus, cutting and specialty welding applications. Over these years, Victor has successfully retained the trust of users through its superior quality, reliable products and safety orientation. Since beginning, Victor has continually represented authenticity, innovation and deep connection with the end user.
Working with all these values, Victor has never let the user down. It has been finally brought to a success exhibition of a series of famous industrial cutting brands. They are Victor oxy-fuel and gas control equipment, Victor Thermal Dynamics manual and automated plasma cutting systems, Victor Aicair manual and automated gouging systems.
What Industries Do You Need Victor?
Victor products cover the full range of needs in a wide variety of industries, from general industrial to heavy duty mill and foundry requirements. Therefore, if you are from one of the industries below, we might help you.
Automotive
Construction
Demolition & Scrap
Farming and Ranching
Heavy Equipment Manufacturing
Fabrication & Manufacturing
Laboratory & Testing
Maintenance & Repair
Manufacturing
Mechanical Contractors
Medical
Metal Art & Jewelry
Mining & Aggregates
Oil & Gas
Pipe & Pipelines
Shipbuilding
Training & Education
Transportation
View Products