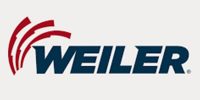 WEILER
The Master Brushmaker, Joseph E. Weiler, began manufacturing polishing brushes for the jewelry manufacturing industry in Pforzheim, Germany. His oldest son, Karl E. Weiler, also a Master Brushmaker, emigrated from Germany in 1927 and in 1944 began a manufacturing operation called Weiler Brush Company in a converted chicken coop on New York's Long Island.
From those humble beginnings, the business continued to grow, and in 1957 the Long Island operation was moved to Cresco, Pennsylvania in the heart of the Pocono Mountains of Northeast Pennsylvania. Karl E. Weiler's son, Karl M. Weiler, began working at the company in 1961 and today serves as Weiler's Chairman.
Today, the tradition of excellence continues under the leadership of the fourth generation, Chris Weiler, President/CEO. Having grown from a power brush manufacturer to a global surface conditioning problem-solver, Weiler Abrasives' mission is to partner with our customers and business partners to ensure their businesses stay productive and profitable. Our people, products and our strong desire to win deliver a competitive edge that creates growth.
Weiler Abrasive is an industry leader and global manufacturer of surface conditioning solutions, Weiler provides power brushes, Nylox® abrasive filament brushes, abrasives, roughneck and pipeline brushes and maintenance products. They are eager to create a collaborative partnership to overcome your toughest cleaning, grinding, cutting, de-burring and finishing challenges. The products that Weiler is proudly presenting are Coated Abrasives, Bonded Abrasives, Diamond Tools, Power Brushes, Scratch Brushes.
With such a comprehensive range of high-performance products, Weiler delivers value-added solutions to users.
View Products