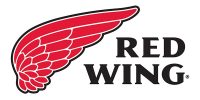 RED WING
"Take Your Safety Footwear Program to The Next Level"
Red Wing Company designs and manufactures footwear and workwear that are effective in the most demanding environments such as that of the oil & gas and mining sectors. Over 100 years of expertise, Red Wing's commitment to craftsmanship that has been at their core and supplying "Best in Class" products for protection, comfort and performance.
To outfit hardworking people with absolute protection on the worksite through products that outsmart and outlast the toughest conditions out there, Red Wing provides head-to-toe solutions which includes everything from footwear and flame-resistant workwear to gloves, safety glasses and more.
Categories of RED WING Products

Red Wing Safety Footwear well known for its superior performance and all-day comfort. Red Wing Shoe is tested to meets or exceeds industry standards.

Red Wing produces work cotton socks, boot oil, mink oil and leather protector. Red Wing work cotton socks give top to toe comfort by super-soft, full cushioning and arch-support panel. Whereas, boot oil, mink oil and leather protector are specially designed for boots that are made of leather to give your boots a longer life.

With certification, Red Wing supplies stylish and reliable workwear such as rainwear jacket, trousers and protective coverall. The workwear is not only designed to have different colours, but also to be waterproof, flame resistant, Hi-Vis and windproof.

Safety Eyewear & Safety Gloves
Meeting or exceeding ballistic fragmentation impact, Red Wing's eye wears offer fit with unlimited wrap around protection. Besides, gloves are produced with premium synthetic leather palm for enhanced grip and hand protection. What made it more special is the terry cloth thumb material to wipe away sweat.

Apart from products which provide personal protection, Red Wing comes out with few designs of offshore bags and backpacks for industry use. Designed with rugged zippers, multiple side pockets or compartments, the bags are made of ballistic nylon for durability. Red Wing offshore bags are the most ideal for egress to helicopter bays.
As the exclusive distributor of Red Wing Shoe in Malaysia, Leeden has been providing high-quality products and services to our customers. Contact us now to know more about Red Wing Shoe. Check out Red Wing Shoe Care guide too.
View Products