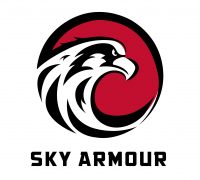 SKY ARMOUR
With the vision of ensuring workers' safety and comfortability, Sky Armour range of products was designed and engineered with lightweight, comfort, function, and all-rounded protection in mind.
Backed by years of expertise and research in fall protection, the X-lite series of fall protection aims to bring superior protection without the weight. Sky Armour product offering including body harness, body lanyard and trauma strap. The use of quality materials and excellent finishing makes Sky Armour's fall protection products a cut above the rest.
The Differences of Sky Amour Fall Protection
Over years of experience in the safety industry, Sky Armour has collected feedbacks and utilize the knowledge in the product offering to benefit our customers to the maximum. Below are the top differences between our products and the others which you must read.
Check out more product information about Sky Armour Fall Protection and download Sky Armour Brochure now.

100% Lightweight and Comfort
With years of experience & well understanding of the situation of working at height, Sky Amour body harness was designed with light and quality material to ensure ultimate comfort to all the workers.

Superior Protection
Other than comfortability, product functionality and performance are the most important features for fall protection system. With years of experience & continuous improvement, Sky Armour always delivering high-quality products.
View Products